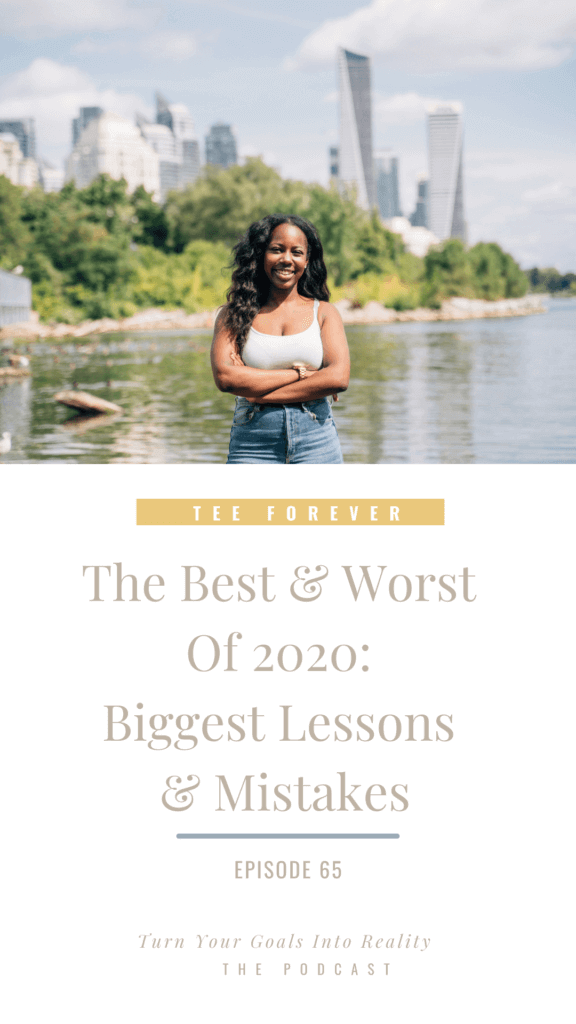 Failure, Success, & Lessons Along The Way
So in this episode, instead of only sharing all of the wins I experienced and all the fun highlights that most influencers are sharing right now, I wanted to give you a real-life sneak peek behind the scenes to see the full picture of what 2020 was like for me. Personally and professionally. And all of the lessons I learned from everything that has gone down. So if you're ready for the tell all, dive in and take a listen (hit play)!
Mistake #1: Joining A Mastermind
Let me start by saying Masterminds are a great investment. If you're not sure what a mastermind is, Forbes explains it this way: A mastermind is a group of smart people who meet to tackle challenges and problems together. They lean on each other, give advice, share connections, and do business with each other when appropriate. If you are lucky enough to get invited to one, you will likely see a marked change in yourself and your business.
Sounds dope right! Which big dreamer does not want to be a part of something like that? So your girl signed up. I jumped on board because I knew it was the right environment I needed to take my life and business to next level. I invested over $4k to be a part of a mastermind that I thought would help me do just that but I made a mistake.
First, let me say the mastermind was great for who it served. It just was not a good fit for me. But just because it wasn't a good fit doesn't mean I didn't learn anything valuable. So here's the lesson I gleaned from this experience.
Ask for what you want. Many times we leave hints and expect others to pick up on the clues, but most times, they don't. It's like being in a marriage and you're hoping your spouse will surprise you with the dream gift you've been leaving hints around the house for, but then your birthday rolls around and he got you something completely different. It's because you didn't ask for what you wanted.
I had the same experience in this mastermind. I wasn't clear about what I needed or wanted. I just desired to be around high achieving businesswomen who were making massive impact in the world and so I joined. But it wasn't the right fit for me because I wasn't clear within myself on what I needed.
Mistake #2: Inconsistent Online Presence
This year, my goal was to grow our online community of goal-getters from 6k on Instagram to 10k so I can have the swipe up feature to make it easier for you to check out some of the cool links I share on IG stories, but I was not committed to this goal. I wanted it but I didn't want to actually work for it. I didn't want to take the steps to create it. I wanted it to just happen…on it's own…without much effort from me or the team. And if you check out my IG, you'll see that it didn't because life does not work like that.
Consistency is what I lacked. Not just in my posting schedule but in my effort because here's the thing. We often look at the surface level actions of the people who inspire us and think that what they are doing is why they are successful, but here's the truth. People succeed because of the character they've developed.
So on a platform like IG, posting everyday is not the goal.. Commenting, liking, and following is not what causes your community to grow. Growth comes from being a leader. Having a message that inspires people to follow. Being consistent within yourself. Embodying your message. Being the change. Inspiring people into action is what established the know, like, trust factor.
So my inconsistent character caused me to not hit my IG growth goals and I'm okay with that because now I'm ready to do the work. I'm aware of what is required and I want to evolve as a person not just to hit the goal but also to become a totally new person. Unrecognizably different because if that is what it takes for me to attain new heights and soar with the eagles, then I am ready for it. And this is the level of commitment and integrity you will want to adopt to achieve your goals as well.
The Lesson:
New levels require a new person.
Mistake #3: Team Building
So I officially started building a team back in 2019 and I had an administrative assistant who helped me schedule most of my social media posts, blogs, etc. Then it grew from just an admin assistant to having a podcast editor because I started a pod and wanted it to sound polished and professional but knew that as a business owner and mother, my time would be better spent working on other things. So I outsourced it to someone who I knew would do a way better job than me and that's how I met my incredible pod guy Gian.
Fast forward now, I have a team of 3. A social media manager, admin assistant, and my pod guy and they are all incredible. Throughout my time of working with various talented people, one thing I learned this year about team building is that when you treat people like a star, they will act that way. They will do their best and perform at their highest level.
One of my mistakes this year with team building was not trusting my gut and hiring people that I knew might not be a good fit for the business. At times, I went against my better judgment and gave people a chance hoping they would recognize the opportunity, value it, and work hard. But in most cases, going against my intuition only created setbacks that I had to later clean.
So I've learned to follow my gut even if it doesn't make sense.
The Biggest Wins I Had This Year
And areas to improve:
This is what most people gladly post about on social media and talk about during holiday gatherings but I didn't put this first on purpose because I want you to see that real life happens to us all. And although my setback and failures might have been different from yours, they still affected me financially, emotionally, physically, and sometimes even spiritually.
These wins are great, but I learned the most from my losses. At the end of every success, I'm going to share an area I can improve based on the results I got because although this is good, it could always be better.
Win #1: Stepping Into Business Coaching
I have not shared this publicly, but my incredible business coach who helped me take my business from $0 – $4k in less than 14 days and beyond since then hired me to join his incredible team of business coaches, which was a HUGE opportunity that included learning his business coaching methods, insightful coaching strategies that produce powerful transformation for people, and being around high achieving entrepreneurs who were also coaches, online influencers, and just creating massive moves around the world.
This experience for me was like being a part of the mastermind group I was craving. Most of the people were genuine people who just want to succeed doing what they love and help others do the same. It is like being in a room full of up and coming celebrities. Lol, sounds crazy but these guys are the future of online business.
As great as this whole experience was, do you want to hear something funny? I found that whenever I was masterminding with them, I would act like a fly on the wall and there are 2 reasons for this.
They are such brilliant thinkers that I wanted to listen and understand their train of thought. I wanted to learn from them, see from their perspective, and grow from their wisdom.
I was afraid of sounding stupid or like I didn't belong there. (this is basically the feeling of not being enough)
Ever feel like you're so close to your own genius that it's hard to recognize it sometimes? It's like when people ask you, what makes you unique? And you have a hard time finding the answer. That's how I felt sometimes when I was around these future online rock stars.
The Lesson:
But now, after about 6 months of working with and being around these guys, here's what I understand.
This belief of me not being enough has nothing to do with them, how they treat me (because we are all treated the same), what we talk about, etc. It's a whole story I made up in my mind.
And you know the saying, how you do one thing is how you do everything? Yea, well I had no clue this was running in the background and has been for most of this year and has contributed to a lot of the self-sabotage I created this year. So now that I'm aware of this, I plan on cleaning it up (obviously) and being more intentional about valuing my voice, opinions, messages, and the things I have to bring to the table.
Win #2: Expanding My Community
Spiritual – I meet with a group of ladies every Thursday to talk about life, connect with God, and have a safe place to let my guard down and just be myself without being judged.
This was one of the greatest changes in my life because I always prayed for and desired to be a part of a true godly sisterhood where we could talk about our struggles, pain, disappointments, joys, wins, and celebrations and just give and receive love.
Business – This year, my business tripled! In a pandemic, I had my BEST business year to date and I'm super grateful because I got to work with really incredible clients who showed up to their coaching sessions ready to work. They were teachable, transparent, and ready to change. I absolutely enjoyed every minute working with every single client.
Inner Circle – My inner circle has come alive! Before, it was non-existent. I had friends and acquaintances but no one that I felt I could really bare my heart with and be authentically me. Now, I have a small group of inner circle people that I talk to often, who know the details of my life, can challenge, inspire, and encourage me when I feel like letting go of the dream God put in my heart or if they see I am acting out of character, they can check in and help me find my way again.
They are a small group of about 2-4 people but they are wise. I love them and I know God definitely blessed me with them!
The Lesson:
Having a strong community is a blessing! I know sometimes it can feel like life is easier without having close relationship or allowing yourself to be vulnerable in relationships (and I get it, I used to feel this way too because I've been hurt by people) but here's what I learned this year. There will be a measure of pain in relationships because we're all imperfect people trying to figure out how to get along together, but there is a great reward on the other side of trying to truly love others as they are, where they are, no matter who they are.
This doesn't mean we should go around sharing all of our private life with everyone 'cause that's not smart. Some people are not able to handle your information with confidentiality and care, but for the souls you connect with and are able to trust and you can vibe with, try opening your heart and letting them become a part of your inner circle. Who knows they might become the soul-sister or the soul-brother you've been looking for!
Win #3: Finding The Courage To Let My Voice Be Heard
This year, I learned what it means to feel the fear and do it anyway. I remember posting for the first time after reading about what happened to George Floyd and although I was a bit nervous about what people might think of me or how some might feel, at my core, I knew I had to say something.
It would have been a personal violation if I had been silent at a time when we (the whole human race) had just witnessed a man being murdered in broad daylight by someone who had the authority and power to protect him. I never watched the video but the story was more than heart breaking. Especially seeing his daughter.
This year, I learned how to use my voice to inspire change in the world and that felt good! It felt authentic. It felt liberating. It felt like I was finally stepping into being myself.
The Lesson:
I believe that we're all here to create change in the world and until we identify what that specific area, industry, or mission is, then we won't feel fully alive. We won't be in our full power and operating in our full purpose. For me, creating a world free or injustice and doing my part to be anti-racist is a part of being and creating the change I want to see in the whole world.
The Ultimate Lesson I Learned This Year:
Alignment is the key to success. For me, alignment includes being myself no matter where I am or who's around. Creating a business that is aligned with my values, goals, and purpose. Having a community of people who are a good fit for me and the future I'm creating and allowing God to take me anywhere He chooses. This year has been peculiar to say the least, but it was my most exciting year.
Last year, I prayed and felt it would be a year of exponential growth (and it definitely was). Now, I am looking forward to all the incredible lessons 2021 will bring and hearing about all the wins you create in your own life. Hit me up on the gram and tell me one lesson you learned from 2020 and one thing you hope to achieve in 2021. Until next time, I love you and I mean it! Merry Christmas and Happy New Year!