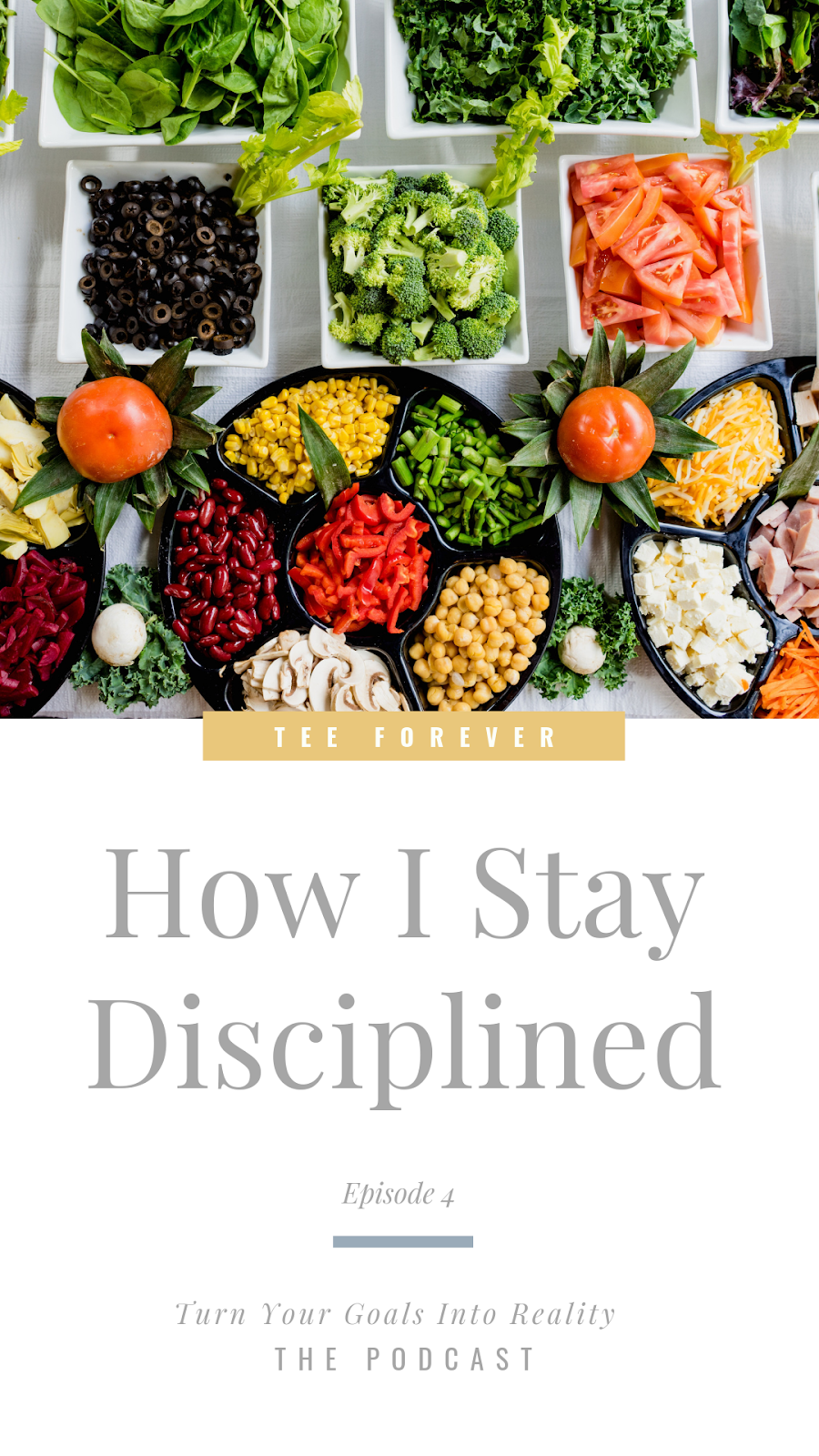 Help! My goals are a mess, I don't know what I'm doing, and I feel stuck! Just raise your hand if you've ever been there! Yup, I raise my hand with you! I've struggled to crush MANY goals! I remember there was a time when all I did was brainstorm, create strategic plans and TRY to overcome procrastination. It took me a long time to crack the code!
No matter how many times I wrote my goals down on paper and committed it to memory, I couldn't get myself to get it done! I felt stuck. Especially when it came to simple goals like food and diet. It was almost like I had no control over myself. I really wanted to achieve my goals, but I didn't want to force myself to do (or eat for that matter) things that I didn't enjoy! The truth is, I simply did not want to exercise self-discipline.
Let's Be Honest…
Who actually enjoys disciplining themselves? Like, do you know ANYONE who gets excited about cleaning the bathroom every Saturday or meal planning every Sunday? Lol, me neither! And it's because discipline doesn't come naturally to us. Think about this, society is set up to create discipline for us without teaching us how to become disciplined. Don't believe me? Keep reading!
In North America, most of our life is spent with other people telling us what to do and holding us accountable to do it. Were expected to attend school from about age 4 until you were 19 years old. Then we are either expected to study some more which means attending college or university until age 24 or we can get a job straight out of high school. No matter which route we take we end up spending the rest of our life working and this means having someone tell us what to do and hold you accountable.
This kind of system is normal and has taught us to depend on an external structure to be disciplined. We need someone watching over our shoulder to make sure that we follow through on what we're expected to do because we don't have enough discipline to get it done by ourselves. We need someone to monitor our lunch breaks because we don't have the discipline to get back to work on time, right?
Most people never learn how to be disciplined so when they try, they end up like I did…confused, frustrated, and ineffective. But just because you start off this way doesn't mean this is how it has to be for the rest of your life.
Discipline Is Easier Than You Think…
Discipline is about leaving behind what's good, for what's best. Although it might mean practicing a few extra rounds in the gym or turning down dessert at your favorite restaurant, discipline is consistently choosing things that will get you the highest return and bring you the best results.
Discipline is bigger than just doing what you don't want to do, it's self-love. Why do you think someone can go from being a meat lover who hates eating vegetables and salads to becoming someone who eats a mostly plant-based diet? Do you think that all of a sudden they stopped loving meat? Or maybe they got tired of eating meat?
No, they learned a way of eating that helps their body to perform at a higher level and decided that instead of compromising and settling for minimal body function they want to treat their body better. They are thinking long-term! They want optimal health! They saw the value in changing their diet and changed. This is the essence of self-love.
When you see value in yourself it's easy to create a structure that will lead you directly to your goal.
Discipline is that structure, but developing it is not easy. Trying to have discipline without a strong motive won't work.
That's exactly what I was doing when I set the goal to get my license and buy a car (I share this in the podcast). My motive wasn't clear and therefore it wasn't strong enough to get me moving. I wanted a car so that I wouldn't have to rely on public transportation, but deep inside I was okay with public transportation. It was convenient there was a bus stop right across the street from my house at the time. It was comfortable, I had been riding the bus since I was a kid, and it was safe. I knew my way around the city. My reason for getting a car wasn't compelling enough for me to actually take action.
Here is a quick self-awareness exercise
Answer these yes or no questions to get a better understanding of your relationship with discipline – Want a free, in-depth walkthrough? Listen to this episode!
1. I am still in the same position that I was in just last year
2. I am still struggling with the same limitation, excuses, and feelings that have kept me from crushing my goals
3. I have you been self-sabotaging my progress by not becoming…
4. I allow myself to get off the hook easily with excuses like "I'm tired, I worked hard today I deserve a break so I'm not going to work on my goals tonight"
5. I prefer the planning process over taking action
Download this FREE workbook: How To Create Realistic Goals Workbook
After you honestly answer these questions decide how you want to move forward. Do you want more structure in your life? Are you going to get some form of accountability? How will you break the cycles of procrastination in your life? Do you need a stronger, more compelling why to pursue your goals?
There is a famous quote that says "one day or day one". This mean you can choose to postpone your goal eventually get started one day or you can tell yourself that today is the day that you start working toward it. The choice is yours. Have a question, feeling inspired, or just want to say hi? Send an email to community@theresaforever.com. Until next time, your girl