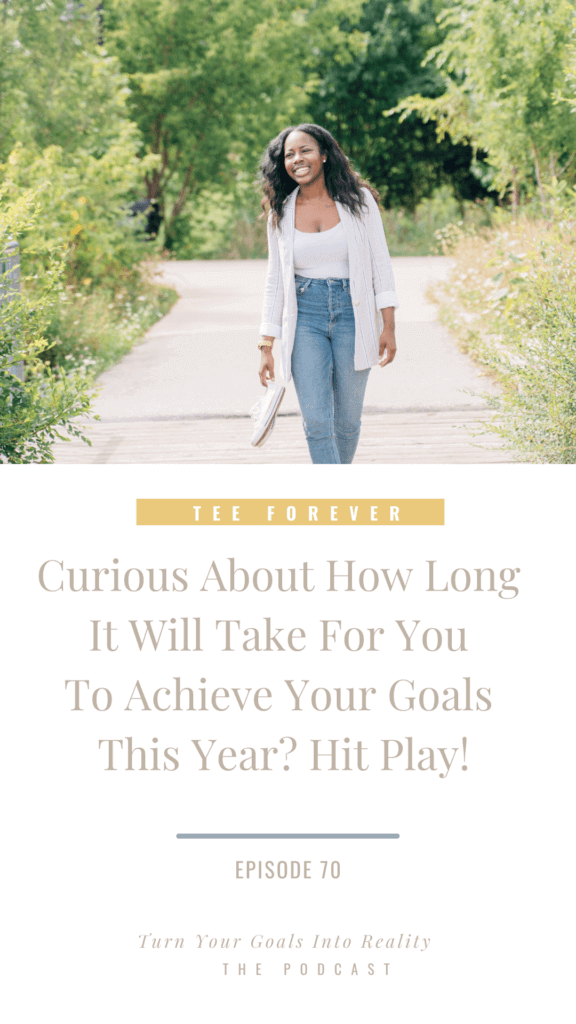 We all know the saying "time is money", right? Well, if we don't learn how to manage our money, the money we have will never work for us and we will be left wondering where it all went. The same is true about time. So whenever anyone asks me how long it will take for them to achieve their goals, my response is often the same, "it depends on YOU."
You're Responsible For Your Life
That's right! The good and the bad. The progress and the lack thereof are all within your control and are completely a result you created. Your life today is simply reflecting everything that you made a priority yesterday. Every choice you made to eat that ice cream or not, work out or not, exceed your budget or not is showing up in your life today. So whenever you choose to tell yourself "I'll get started on my goals tomorrow", you're actually delaying your destiny.
But the fact that this is all within your control is a beautiful thing because that means if you created a situation you don't like, you can always clean it up. Anything you don't want, you can change!
Time Management
How many times have you spent hours on Instagram scrolling through strangers' feeds and liking images that really don't inspire us? Haha, I did this just last week. I went on the gram to check ONE THING and ended up spending 20 mins scrolling and liking and commenting on things that I had no business doing because it was during work time!
Every time we choose to mismanage our time and allow ourselves to be distracted by things that don't truly matter, we're choosing to delay our future success. You see, mismanaging your time and priorities won't just cause you to miss opportunities for advancement… you won't even see them! And that very thought keeps so many trailblazers stuck.
The Fear of Failure
The fear of committing your time to work on goals that don't guarantee results and executing a strategy that takes you nowhere or putting in all this time to try and build momentum only to end up with nothing to show for all of your efforts and looking stupid in front of your peers, friends, and family.
Related Post: I Failed To Hit My 2020 Goals Now What? Hit Play
It causes most trailblazers to NEVER even get started. And every single trailblazer who gets stuck here — and stays stuck here — is making one of the BIGGEST mistakes that's guaranteed to keep them from carving their own path in the world and living authentically (which gives them the life they want). And do you wanna know the worst part?
They don't even realize that the true mistake they're making is to avoid getting started. This is costing them an immeasurable amount of lost time that they will never get back.
So, let's really address this question by first saying:
This is the WRONG question to be asking! It's totally backward! Let me try to explain it this way for a second. If you and the most successful person you know worked at the same place, received the same salary and were executing the exact same job, but you chose to save 70% of your pay while the other person only saved 30%, who do you think would become more financially successful? You because you made the choice to save more upfront, right? Well, this is the exact same way it works with our time.
We all get 24 hours in a day. Age, race, demographic location, family history, economics, level of education, IQ tests, and so on DO NOT determine or affect how much time each of us have access to! And that's great because now no one on this planet has a valid excuse for not achieving the levels of greatness they desire!
Time is our greatest asset, but it's also our most abused.
The way we use it is the one thing that determines the quality of our life, our level of personal fulfillment and satisfaction, as well as how much we accomplish in our lifetime. So the question isn't how much time it will take for you to achieve your goals. Rather, it's how much you are willing to grow so that you can become a better steward of your time and more efficient so you can achieve your goals.
Related Post: 3 Things You Can Do To Stay Laser Focused On Your Goals
Successful trailblazers know this and chose to maximize their time rather than sleepwalk through life following the crowd. So if you want to MASTER this so you can actually live authentically and blaze a trail, let me be your guide. Let me take my years of trial and error and just give you the EXACT steps you need to get started NOW!
Free Brand New Training
In my brand new training, I'm going to walk you through The Number One Way To Blaze A Trail & Carve Your Own Path In 2021 so that you don't have to keep living your life on the sidelines wondering when your dreams will finally become a real experience for you. This is a no-fluff online training for people who know they are trailblazers but are having a hard time getting started, implementing their plan to the completion, or if you simply need some guidance.
I'm here to walk with you and help you figure this thing out. Whether you have questions about if you're doing things the right way, are looking for some tips to improve what you're currently doing, or just wanna hang out for a bit, I'm down! So grab your notebook and fave drink and join me in this FREE training! Until next time, your accountability partner! Tee