special: join master your 5% activities for just $97

Master Your 5% Activities
Oprah wasn't built in a day
You know what it took? Time. People who manage their time well have better relationships, experience less stress, and consistently have higher productivity levels than those  who spend their time staying busy all day working on all the wrong things.
The Cold Hard Truth Is:
If you DON'T learn how to take control of your time and stop filling your schedule with unnecessary tasks that only cause burnout and frustration you will NOT achieve YOUR personal goals and there is nothing more depressing than having dreams unfufilled and goals unrealized and a heart full of regret
for not realizing this sooner
So here's the million dollar question
What do I need to do to get better at managing my time? I'm glad you asked! If you're like the average person, you have already tried 13 different methods to control and manage your time and now you have nothing to show for it. So where do you go from here?
it's simple get clear key performance indicators!
Most people Who struggle to manage their time think...
There is so much to do and so little time
But we know based on principle that time is infinite because it was here before you were born and it will continue long after you are gone.
So if time is infinite and you are restricted in how much you can accomplish in a day wouldn't you want to use time in the most effective way possible so you can actually achieve your goals and live a purposeful life?
So here's the real reason why you haven't been able to achieve your goals…
You're wasting the time that you have
now I am fighting harder by taking action so that my dreams can become reality.
"I was allowing life to just happen to me while sitting back hoping that one day things will be different, but now I am fighting harder by taking action so that my dreams can become reality."
Instead of life getting better everyday
You  feel more and more exhausted from being overworked and underappreciated. You want to establish some really clear boundaries with your friends and family but you're not sure how to do it without it being misinterpreted as  rude or selfelfish, and you're tired of having these big dreams that are never followed up with sustained aaction because your calendar is too full of other peoples priorities and quite frankly you're tired.
At your core you're starting to feel like you're losing yourself
the pressure you feel is totally normal
Doing your best to get everything done and trying to be all things for all people comes with a lot of pressure! And truth be told, you probably haven't stopped because this is all you know how to do
So why don't we pump the breaks for a little bit and get you back on track so you can focus all of your good intentions and strong work ethic on getting the right things done at the time.
Thank you SO MUCH
Thank you SO MUCH for this Tee! I loved the goal breakdown and I felt like you were talking directly to me throughout the training!
Master Your 5% Activities
Master Your 5% Activities isn't a basic fluff-filled time management resource like all the others you may have tried. IT'S A READY OR NOT HERE I COME action-oriented, flip everything you think you know about time on it's head and become the creater of your life program that gets you into the habit of managing your time effectively…Which by the way produces growth in your life!
in master your 5% activities you will learn:
It's time to transform YOUR LIFE! Just like it's done for these Trailblazers!
The past couple of weeks have been amazing
The past couple of weeks have been amazing and I loved every minute of our coaching calls. You truly helped me to realize that anything is possible and pushed me out of my comfort zone. You also really helped to steer me in the right direction and keep me laser focused on my goals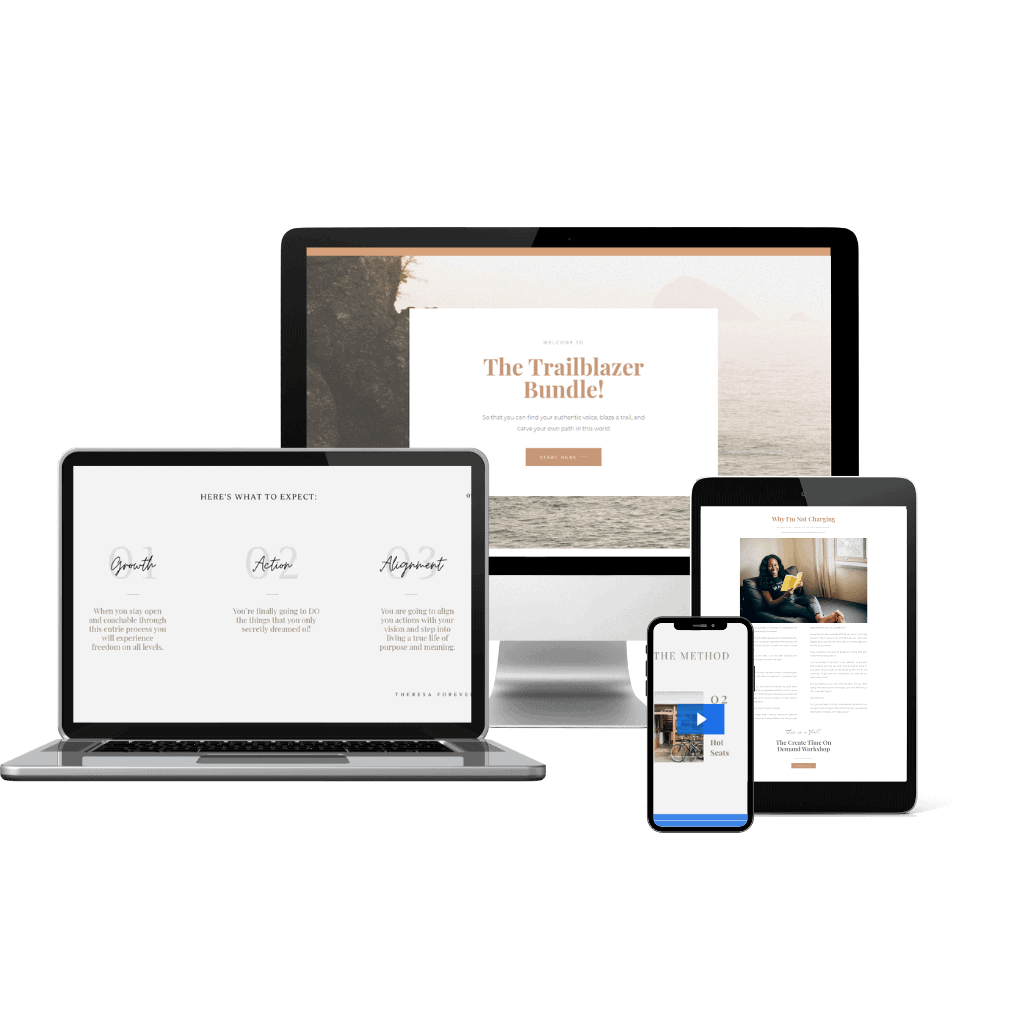 master your 5% activities contains EXERCISES and COACHING specifically created to move you out of overwhelm and fear and into aligned action!
Here's Why I practice what I teach in
master your 5% activities
you can achieve more while doing less
Minimize Overworking,
Stress, & Anxiety
With the old outdated system and belief, your growth is dependent on your EFFORT, but what if you didn't have to grind as hard, put as much stress on your body, or struggle your way to success and you could effectively attain your goal in less time? Would you test it out?
Maximize Productivity & Performance
If you're like most struggling trailblazers then chances are you're operating from this unproductive outdated system and belief that you need an annual goal. Maximize Your Effort and Create Steady growth Overtime
Crush Your Goals
In Less Time
Than You Think
You know the old saying "when you know better you do better" so what are you waiting for? Approval? Someone to come along side and co-sign that your dreams are possible and you have what it takes?. This need will keep you trapped.
this gave me the confidence to dream bigger than I ever thought possible (and actually go after these dreams!)
Working with Theresa helped me to know more about myself so that I could make better career decisions. I can honestly say that I came alive after working through this program. It gave me the permission (I didn't know I was looking for) to be myself, it gave me the validation I needed to stand out and do what felt aligned for me in my everyday life which included setting strong boundaries with family, and it gave me the confidence to dream bigger than I ever thought possible (and actually go after these dreams!). It was a challenging road but I'm glad I took this program.
LET'S GET TO KNOW EACH OTHER:
i'm Tee! Your New Accountability Partner
Over the last year I've been privately coaching and working with 6-figure online entrepreneuers helping them to manage their time, energy, and focus in ways that are productive and condusive to creating the kind of life and business they desire!
After noticing a common denominator between how they were achieving their goals and the personal development they committed to in the process I decided to put together a resource that many could access to create the same level of transformation in  their life!
Because I get it! Not everyone is able to invest in high-ticket private coaching so in this bundle, I bring the private coaching experience to you! Making it accessible so money is no longer the excuse you hide behind for not doing the things you REALLY want to do
frequently asked
questions
If you have any unanswered questions about anything regarding The Trailblazer Bundle shoot us an email!